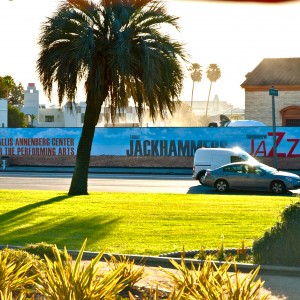 Sometimes it's about a simple creative idea well executed. And sometimes it's about creating buzz and intrigue long before one's brand is launched.
This is part of a series of construction barricades that line the perimeter of the site for the new Wallis Annenberg Center for the Performing Arts in Beverly Hills, launching in 2013. Below you can read them a bit easier if you increase the text size on your screen.
For Angelenos, you can see these when driving or walking by the site which is bound by Santa Monica Boulevard, Little Santa Monica Boulevard, and North Canon Drive. For the rest of us, Santa Monica Boulevard is one of the major traffic arteries in Los Angeles, so these construction billboards-of-sorts are seen by literally thousands of drivers and pedestrians each day.
One might ask, "how effective is this type of advertising?" Well, in Los Angeles, it's critical when you consider the number of entertainment brands that spend millions each year on billboards and transit advertising. Yes, the upfront cost for the actual printing and materials is not cheap, but when you consider that the Annenberg does not have to pay for media placement—they own the site—and you spread production costs over the many months/years that the barricades will be in place, the cost becomes more reasonable and the value more clear.
The other great aspect about these is that they are clear ideas, immediately grasped, designed to be read at a glance while traveling in a vehicle. No secondary messages, no complex text, no complex visuals, just impactful design.
Some municipalities are reticent about allowing this type of advertising on a construction site, but when the idea is witty, interesting, and informative at the same time, and the eventual deliverable is positive for the community,  it's hard to get too upset about this unique addition to the urban landscape.