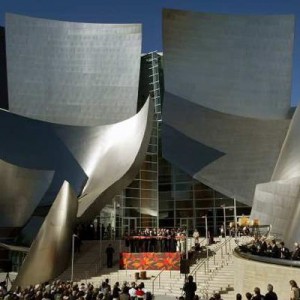 Programming will always be at the heart of any arts brand. It's what sustains the arts organization, provides its reason for being, is the focal point for its vision, and provides the platform for the organization to live up to the promise of its brand.
The Los Angeles Times reported this past week that the Los Angeles Philharmonic Association (LA Phil) won the ASCAP (American Society of Composers, Authors and Publishers) and League of American Orchestras' annual Morton Gould Award for Innovative Programming.
ASCAP states in its news release, "For the past 54 years, the members of ASCAP have presented adventurous programming awards to orchestras whose mission not only perpetuates the great orchestral tradition of the past, but insures that concert music in America remains relevant, vibrant and alive. We salute those orchestras who have a commitment to the music creators of our time."
The LA Times says this is LA Phil's third consecutive time in winning the award in recent years and may have won it at least 20 times! (the League didn't have an historical winners' list available.) Note that's across the music directors Esa-Pekka Salonen and Gustavo Dudamel years. Whether you believe in awards, this award, judging, or this judging, it still represents achieving a goal and LA Phil can demonstrate to various stakeholders that it regularly achieves this goal.
"Innovation" is the "it" word and concept in branding these days , so this innovation award immediately caught my attention. Then I thought, if LA Phil has won this award so many times–and entered the contest so many times–I wonder if it's part of their mission statement? Sure enough, there it is at the end ". . . fulfills its mission through subscription concerts, educational programs, community presentations, tours, and recordings that are reflective of its unique and innovative spirit." It's in their education mission too, ". . . We are committed to creating innovative music education programs for people of all ages and backgrounds . . ."
Buoyed by this, an eager and hopeful brander thought, "could innovation be part of their brand strategy too?" (I happened to have developed their brand strategy many years ago while at another firm. Hey, you can't expect me to remember all of these. I do quite a bit of this stuff.) Yep, there it was in their image attributes, not literally, but embedded partly in phrases like "offering the newest and best in cultural entertainment" and "visionary." And, innovation is certainly in LA Phil's Walt Disney Concert Hall wouldn't you agree?
For me, here's an example of an arts organization that has lived up to an aspect of its brand promise. There are many more aspects to the LA Phil brand, but innovation seems to have been part of their brand DNA for some time now, so much so that they feel confident enough to pursue recognition for it. This recognition sends a message about the LA Phil brand to staff, audiences, educators, and donors. It also sends the message that it is achieving innovation through the acknowledgement of an independent outside party. Bravo LA Phil! You get my arts branding award.
Tags:
Achieving an arts brand's promise
,
American Society of Composers Authors and Publishers
,
arts brand DNA
,
arts brand innovation
,
ASCAP
,
LA Phil
,
LA Times
,
League of American Orchestras
,
Los Angeles Philharmonic Association
,
Los Angeles Times
,
Morton Gould Award for Innovative Programming
,
Music Center of Los Angeles County
,
Walt Disney Concert Hall