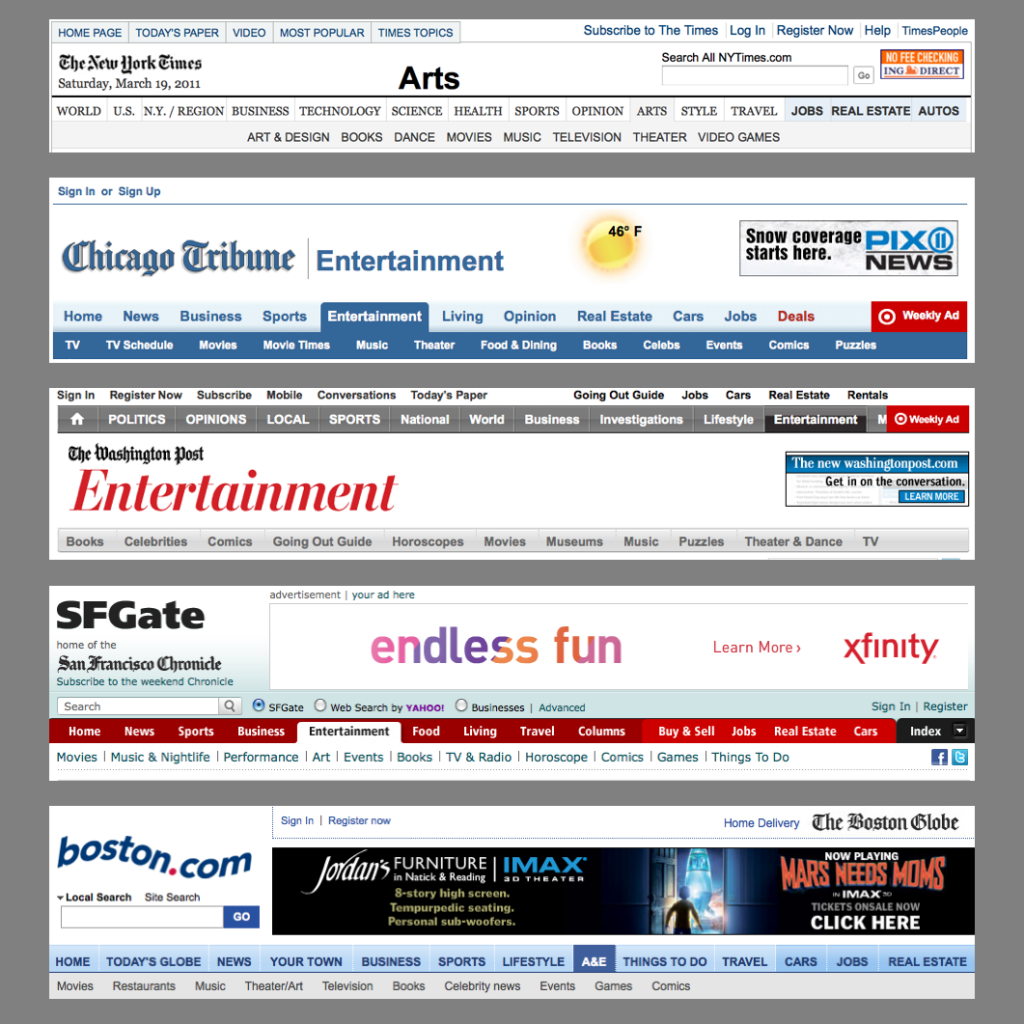 In the back of my mind I recall Philippe de Montebello's impassioned speech some years ago on "The Changing Landscape of Museums." In it he said, " . . . it is by clearly differentiating ourselves [museums] from all manner of entertainment that we maintain our integrity, that we remain not only useful but essential. Rather than competing with the entertainment industry for audiences—with theme parks, for one, which is bound to fail, incidentally—we must emphasize what makes us different and special, indeed unique, such as authenticity and the wonder of art, and we must capitalize on these differences—and not desperately try to be something else." Hmmm.
I always thought it was curious that on the west coast The Los Angeles Times lists "arts and culture" under "entertainment," but on the east coast The New York Times has a separate arts section. I thought this was due merely to the cultural differences between LA and NYC (lest you think I'm biased towards either, I've lived equal amounts of my life in each). Both obviously have lots of cultural arts, but each has a different take on how and where the arts fit in each city's cultural landscape. Okay, so I took it a step further.
American Style magazine has been asking its readers for years to pick the top U.S. arts destinations (big, mid-size, and small cities, click on the link for your city's rank). So I compared the top five big cities' online newspaper mastheads to see how the arts are promoted. I don't think Philippe would be amused by my findings. Four of the five put the arts as part of entertainment (or A&E).
Okay, so what? The top five—New York, Chicago, Washington DC, San Francisco, and Boston—are all huge cultural arts centers, can one really make a correlation between how their online newspapers address the arts versus how these cities or residents view them? The arts are major economic drivers in each. In Chicago alone the arts are woven into the city's civic identity and pride of place—even among non-arts-goers. Maybe the newspapers are responding to how they think their readers organize and look for information? But isn't part of their job to lead not follow, as Philippe said of museums?
He makes this point in his speech, "If museums continue to spoon-feed the same subjects to their public, themes endlessly revisited because of their predictable popular appeal (most people, after all, favor what they already know), then the public will not learn to demand more of museums or of art, their horizons having not been sufficiently expanded." If news media lump the arts in with entertainment then what "expanded horizons," as Philippe put it, are we, the publications, and their readers losing out on by doing so?